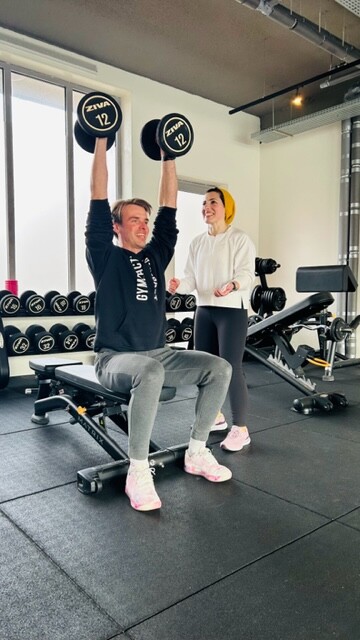 ABOUT
Us
My name is Melike Sayman. I graduated from European School of Physiotherapy Amsterdam in 2018. I have also been working as a personal trainer since 2008. I have an MSc in "Training and Sports Nutrition" from the School of Real Madrid and a diploma in "Physiotherapy and rehabilitation for football injuries."
I played competitive badminton 11 years. Due to a knee injury, I had to stop playing competitively and start with a rehabilitation program. This is the reason why I became a (sport) physiotherapist. In 2013, I started with Olympic weightlifting and powerlifting, and I became third in my weight category in Madrid.
I believe that our body is amazing, and it can do a lot more than we think if we exercise in a right way. I am not only a physiotherapist but also a coach who wants to teach you how to deal with pain even after we have finished our sessions together. This is my goal as a physiotherapist.
Get Started
Physiotherapy bachelor's degree
MSc Training and Sports Nutrition, Real Madrid
Rehabilitation after Covid-19
Post-operative rehabilitation
Football injuries specialist
Services
Personal Training/ Coaching
Physiotherapy (without insurance) Regulierezitting
€40
Intake en onderzoek na screening
€50

Intake en onderzoek na verwijzing
€50
Fysiotherapie Aan Huis
€65
Niet Nagekomen Afspraak*
50%
You can cancel or change your appointment 24 hours before without any cost. Appointments not canceled 24 hours in advance will be charged.